Skill or Chance? The Poker Debate Continues...
The debate around the luck or skill based nature of poker and online poker has been raging for years now. Various courts have delivered several verdicts in different cases involving poker and online poker related offenses. Most such verdicts thus far have declared poker a skill based game, while some rulings have been on the luck-based side. The latest such ruling, the one handed down by Federal Judge Jack Weinstein of New York in a case involving a man accused of running an illegal gambling ring in Staten Island, represented yet another major victory for the supporters of legal online poker. The above said Federal Judge tossed out the case against defendant Lawrence DiChristina who hosted poker games in a warehouse which he also used to sell other goods. The main argument of the prosecution was based on the fact that as a game of chance, poker constituted an illegal gambling business of the sort prohibited by the Illegal Gambling Business Act.
The ruling was by no means a hastily made one: the Judge had heard the testimony of a Yale University expert on the matter, before handing down a 120 page opinion justifying his decision. The expert, Dr Randal Heeb, had apparently studied a massive sample-size of poker hands played at an online site, and he had arrived to the conclusion that the in overwhelming majority of the hands the luck factor had no say in the outcome whatsoever. He therefore considered that poker was not a luck based game and therefore it did not qualify as gambling.
Convinced by the academic arguments, the Judge also tossed out the gambling-related nature of poker and with it the entire case against the defendant.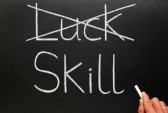 John Pappas, executive director of the Poker Players Alliance, hailed the ruling as a major step in the right direction. Pappas sought to capitalize on the legal momentum offered by the ruling, calling it a major victory for the millions of Americans who enjoy this traditional pastime.
The PPA had its own attorney involved in the case: Tom Goldstein. Goldstein called the ruling one of the most detailed and thorough poker-related rulings ever delivered by a US court.
Exactly what sort of legal implications the ruling will have in the future remains to be seen. It does practically exempt poker from under the provisions of the Illegal Gambling Business Act.